Updated: January 19, 2010, 2:55 PM ET
Berto family devastated by earthquake
WINTER HAVEN, Fla. -- The Berto family members huddled in their father's office, worrying, lamenting that it had taken such devastation in Haiti to make people aware, and wondering whether they had the courage within themselves to overcome human conditions so unspeakably horrid.
"I just couldn't imagine it," said Andre Berto, shaking his head. "Hearing those voices. …"
[+] Enlarge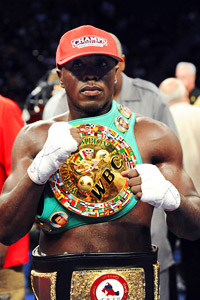 Harry How/Getty ImagesAndre Berto holds the WBC welterweight title.
It was then that Andre's 14-year-old sister, Rachelle, lifted her hands and pressed them against the air as if she were pushing away something excruciatingly heavy. "I would just push the concrete off me like this," she said.
At a time like this, even naïve hope is welcome.
For days, the Bertos have been consumed with the news coverage of their native Haiti. There has been sleeplessness, prayer and, of course, comforting.
Given the depth of how the earthquake has impacted the Bertos, it comes as no surprise that welterweight champion Andre Berto decided Monday to cancel his Jan. 30 unification fight with Shane Mosley in Las Vegas. Who could box knowing that members of their family were homeless -- even though a bout against Mosley had the potential to vault Berto (25-0, 19 KOs) from the ranks of the accomplished to elite?
This hasn't been just some tragedy the Bertos experienced through the media, but one that has deeply touched their lives. Eight of Andre's relatives died in the earthquake after a home filled with his mother's family, siblings and cousins, collapsed. Andre's half-sister, Naomi, who wasn't heard from for two days, is now living on the streets with his 6-year-old niece, Jessica, because their home was destroyed. If Naomi and Jessica had not decided to take a walk shortly before the earthquake, they could have be one of those voices begging for help.
"My dad sat down and talked to us," Andre said of those first few days when Naomi was missing. "I don't think I've ever seen that look and emotion on his face. Ever."
When Naomi and Jessica roam the streets, they hear the cries of people still trapped underneath buildings. Just thinking about it made Berto lower his head.
"Seeing so many bodies coming up dead, hearing voices of people underneath the rubble … that's just incredible," Andre said." It's the scariest thing I've ever seen."
[+] Enlarge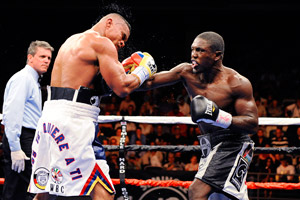 Doug Murray/Icon SMIBerto retained his WBC welterweight title with a unanimous decision over Juan Urango last May.
Sunday, Andre was still contemplating fighting Mosley, even though his father, Dieuceul, wanted him to postpone the bout. Dieuceul oversees Andre's training and owns a boxing gym in Winter Haven, where the Bertos have lived since Dieuceul imigrated from Haiti in 1980.
"I want him to postpone the fight," Dieuceul said Sunday. "But I know he really wants to go for it. What's happened over there has taken a big toll on him. It's going to be a problem, either way. It will either weaken him or motivate him for the better."
Andre said he knew if he fought, the Haitian people would use his battle with Mosley as inspiration as they struggled to handle such an appalling catastrophe. By not fighting, it paves the way for Andre to return to Haiti and help his family as soon as transportation hurdles are cleared.
For most of Andre's life, Haiti has lived a tenuous existence. This certainly isn't the first time a dire situation back home has unfolded as Andre's boxing career progressed upward. In 2004, when Berto represented Haiti at the Summer Olympics in Athens, his home country had just survived deadly floods and an uprising that caused a United Nations takeover.
This, though, is the worst things have been.
One with Haiti
Andre visited Haiti for the first time last March with the Carma Foundation, an organization founded by artist Wyclef Jean's sister, Melky. The foundation focuses on improving the health of women and children in Haiti.
[+] Enlarge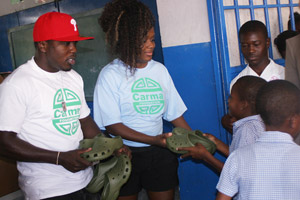 www.carmafoundation.orgBerto helps Wyclef Jean's sister, Melky, hand out shoes to Haitian children.
While in Port-au-Prince, Andre saw a culture with breathtaking richness, but he also saw unimaginable poverty. According to the Central Intelligence Agency's World Factbook, Haiti is the poorest country in the Western Hemisphere, with more than 80 percent of its inhabitants living under the poverty line.
"It's a shame to see how things are now," Andre said, "but it was like this even before the earthquake."
In Haiti, Andre helped as the Carma Foundation handed out more than 10,000 pairs of shoes. He visited orphanages and schools. He taught school children his patented hook shot. He encouraged them to dream big.
Children of all ages approached Andre while he was there, wanting to know how he succeeded in the United States and whether that hero they'd seen on billboards throughout the city was eager to embrace them.
[+] Enlarge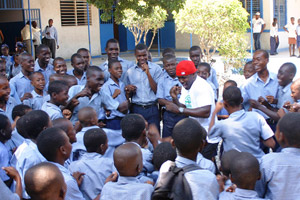 www.carmafoundation.orgBerto shadow boxes with school children in Haiti during his trip there last March.
He was.
Andre gave one teenager his e-mail address, and the boy has e-mailed the boxer nonstop. After meeting Andre, he's more determined to be a doctor, not an athlete. That makes Andre especially proud.
Andre was in Haiti for just three days, but it meant something for him to connect with his countrymen and relatives. Until that visit, he had never met his half-sister, Naomi, in person. There were scores of uncles, aunts and cousins who he also had never seen. He felt as though he'd attended a family reunion.
"You hear a lot of stories about Haiti," Andre said, "but being there is a whole different feeling. It's a beautiful culture. But it's like a paradise with a black eye."
All in the family
Family and country always have been important elements in Berto's success. Andre was one of seven children, and each has taken a role in his boxing career.
Dieuceul oversees Andre's training. His brother, Cleveland, is his fitness trainer and nutritionist. His other brother, Edson, and sister, Revelina, are mixed martial artists, and they push Andre as hard as they can during training. In Dieuceul's gym, posters of Andre, Edson and Revelina hang throughout.
[+] Enlarge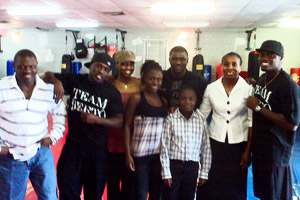 Jemele Hill/ESPN.comThe Berto family is a close-knit group, supporting Andre's boxing career.
There have been a number of instances in sports that support the notion that family-run operations involving athletes don't work. Team Berto does.
Dieuceul left Haiti when he was 23. He grew up in a home with a stern father -- a farmer who wanted his son to focus only on education -- and he thought it was important to not only be a disciplinarian with his own children, but give them a sense of honor.
Dieuceul started taking Andre to gyms when he was 5, mostly because he had to do something with a boy who possessed so much energy. By the time Andre was 10, he had fallen in love with boxing and it was clear he had the makings of a professional.
As Andre's star began to rise -- from two-time National Golden Gloves champion to where he is now -- there was never any beef between him and his family. No jealousies. No envy. Just love and honesty.
"We train together," said Revelina, an MMA pro at 20. "We run together and push each other. We don't slack because neither one of us wants to look bad in front of the other."
Now that he's postponed the Mosley fight, Andre needs his immediate family more than ever. And Haiti needs them just as badly.