Pacquiao proves worth against Clottey
ARLINGTON, Texas -- Round after round, Manny Pacquiao, the greatest fighter in the world, pounded Joshua Clottey like a punching bag.
It permitted plenty of time to reflect on the fighter who has become the greatest show on Earth. In the case of Pacquiao's shutout decision against Clottey to retain his welterweight title in his first defense on Saturday night, it was a one-man show. A virtuoso performance of the highest level.
It also permitted plenty of time to contemplate the possibility of the one fight the world wants to see: Pacquiao against Floyd Mayweather Jr.
But first Pacquiao had to take care of Clottey.
No problem.
While Pacquiao landed combinations -- sometimes seven or eight punches in rapid succession -- Clottey did almost nothing.
Yet the boisterous crowd of 50,994 still cheered Pacquiao's every move. They probably would have cheered had he been in the ring shadowboxing in the main event of the first card at Jerry Jones' sparkling $1.2 billion Cowboys Stadium, a spectacle that even featured a trio of Dallas Cowboys cheerleaders singing the Star Spangled Banner.
Pacquiao's transformation has been nothing short of remarkable, and Saturday's fight just added to his growing legend, one which can't conclude until we see him face Mayweather.
Think about it: Pacquiao was a poor kid from the Philippines who came to the United States in 2001 as an obscure former flyweight champion, won a junior featherweight belt and never stopped. He has risen up through the weight classes to win seven world titles in a record seven divisions, knocking out Oscar De La Hoya, Ricky Hatton and Miguel Cotto along the way.
He has also become a worldwide phenomenon with a media corps that follows him like it once followed Muhammad Ali. He performs concerts after his fights. And he has become an amazing gate attraction.
He has become the face of boxing.
Pacquiao (51-3-2, 38 KOs) was fighting a good contender and former titleholder in Clottey (35-4, 21 KOs), but an opponent who was unknown to the masses. Yet Pacquiao drew a massive crowd.
[+] Enlarge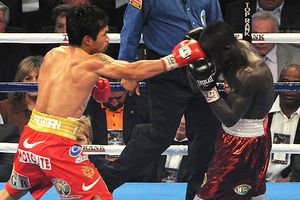 MARK RALSTON/AFP/Getty Images Manny Pacquiao, left, hardly broke a sweat in dominating Joshua Clottey for 12 rounds.
It was the third-largest indoor attendance in U.S. boxing history, beaten only by the 63,350 who attended the 1979 heavyweight title rematch between Ali and Leon Spinks at the New Orleans Superdome and the 59,995 who attended the 1993 welterweight championship fight between Pernell Whitaker and Julio Cesar Chavez at at the Alamodome in San Antonio.
"It's one of the most incredible stories, not just boxing, just stories of a guy who starts on the streets of Manila in a cardboard shack and 14 years later he puts 51,000 people in this opulent stadium," Top Rank promoter Bob Arum said. "If you wrote it as a movie script nobody would believe you, it is so far-fetched."
He had no problem with Clottey, who made $1.25 million plus an upside that kicks in after 300,000 pay-per-view sales. From the first round, when Pacquiao attacked him with jabs and combinations, to the last round, when he was still firing combinations, he never gave Clottey a chance to breathe. He was particularly effective ripping Clottey to the body.
"It was not an easy fight," Pacquiao said, even though it sure looked like one. "He's a good fighter. I threw a lot of jabs in the beginning to counter his hook and uppercut. I felt his power. He's so strong. I could tell he was looking to land the big shot throughout the fight."
But Clottey, 32, never came close to doing so, making it an easy fight to score. One judge had it 120-108. The other two gave Clottey one round apiece, scoring it 119-109. ESPN.com also had it a 120-108 shutout.
"I felt I was in control after the first round," said Pacquiao, who made a minimum of $12 million plus a share of the pay-per-view profits.
Pacquiao, 31, landed 246 of 1,231 punches (20 percent) while Clottey was limited to landing 108 of 399 punches (27 percent).
"I thought we won every round," said Freddie Roach, Pacquiao's trainer. "We pressured him. He had a good defense but good defense isn't enough to win the fight."
What could Clottey even say about his non-performance? Not much other than the obvious.
"He has very good movement. He has great speed," Clottey said. "It was very difficult for me to handle. I didn't feel Manny's power. It's just that his speed was too much for me."
Lenny DeJesus, Clottey's trainer, was frustrated with his man's refusal to throw punches.
"Joshua had the power to knock him out, but was reluctant to punch," he said. "We clearly got beat. I don't think we won a round."
Pacquiao will take a short break from boxing to run for congress in the Philippines, where the elections are in May. Then Pacquiao will obviously come back, maybe in November, according to Arum.
And there is just one fight that the world wants to see.
No disrespect to Shane Mosley, who fights Mayweather on May 1, but Mayweather is the one.
"I want that fight and right now I know I have the support of the fans and I love them for it," Pacquiao said.
Pacquiao-Mayweather was supposed to happen on Saturday night, but negotiations blew up in January over drug testing protocol.
"The people want that fight, they want to see that fight. It's up to him," Pacquiao said of Mayweather. "For me, it's no problem to fight him. I will fight him any time. He should win against Mosley. If not, Mosley and I will fight. [Mayweather's] style is not a difficult style. He needs to handle his business in his next fight."
Arum said he is ready to make the fight as long as the rules of the state commission where the fight would take place are used. In other words, no negotiating over the drug testing again. Whatever the local commission says, goes.
Roach also wants the fight with Mayweather, and why shouldn't he? He has never had Pacquiao duck a challenge, like Mayweather has often been accused of doing.
"It's the fight the world wants to see. Me and Manny want to see it," Roach said. "Floyd, let the commission do their job. You don't run the sport. Get in the ring and fight us."
If the fight ever happens, Arum, of course, picks his guy.
"Manny will break down any defense," he said. "He never gets tired. He throws a million punches. If Mayweather doesn't come out of his shell Manny will pile up the points like he did tonight. When you're in with a buzz saw, it's very difficult to do anything. Manny prevented Clottey from throwing his punches by throwing his own punches, and he throws from so many angles."
Will we ever see those combinations and angles from Pacquiao being attempted against Mayweather?
The world hopes so. Maybe back at Cowboys Stadium, where they might pack the joint with 100,000-plus fans.
Now that would be the greatest two-man show on Earth.
Dan Rafael is the boxing writer for ESPN.com.