Silva front kick KOs Belfort at UFC 126
By Brian Knapp
Sherdog.com
Archive
MMA Live UFC 126 Recap
Silva's Manager On Amazing Front Kick
Ellenberger By Split Decision
Mendes Defeats Omigawa
It felt as if the MMA world's collective jaw hit the floor all at once.
Middleweight champion Anderson Silva retained his crown in spectacular fashion, as he knocked out Vitor Belfort with a front kick to the face in the UFC 126 main event Saturday at the Mandalay Bay Events Center in Las Vegas. Two punches on the crumpled Belfort polished off "The Phenom" 3:25 into Round 1.
"I want to start by thanking all my trainers who have helped me with all the different disciplines," Silva said. "Thanks to my coach for teaching me that kick. Everybody should respect Vitor. Before I even started fighting, he was a champion, so he deserves your respect."
[+] Enlarge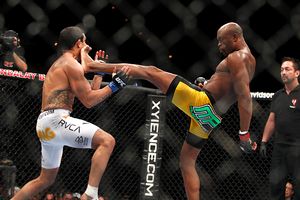 Ric Fogel For ESPN.comFoot in mouth: Anderson Silva silenced Vitor Belfort and critics alike with a kick to the chin.
Silva, staking his claim as the greatest fighter of all time, has won 14 consecutive fights, a record 13 of them inside the Octagon, where he has dominated like no other man in history.
A lengthy feeling-out process between the two middleweights ended with a pair of leg kicks and a right-left combination from Belfort. It was but a small victory for the former light heavyweight king. With the two men standing face to face, Silva fired the front kick up through his defenses and dropped him where he stood. Belfort looked like he had been cut down by a sniper. A right and a left, as Silva passed his foe's foggy guard, finished it.
"That's just one of the strikes I was working on," Silva said. "I was focusing on many different types of strikes and attacks."
Belfort entered the cage on a five-fight winning streak. He left it humbled and beaten. Never before in his 14-year career had Belfort been finished so quickly.
"Anderson is a very good fighter," Belfort said. "I was waiting and doing my thing, but I got caught. That's why [he's a champion]. He faked to the body and kicked to the head. He's a great fighter. I promise I will be back, and I will bring the fire again."
Griffin outpoints Franklin in co-headliner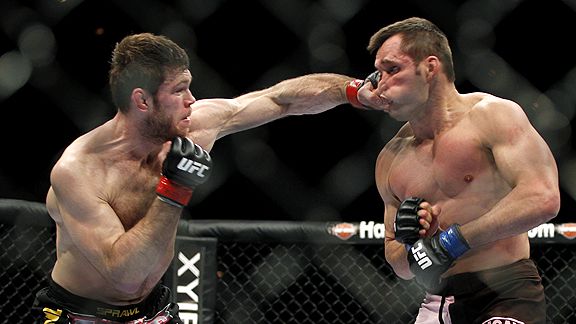 Ric Fogel for ESPN.comForrest Griffin proved too big and too active for Rich Franklin.
In his first appearance in more than a year, former light heavyweight champion Forrest Griffin outstruck, outwrestled and out-grappled Rich Franklin en route to a unanimous decision in the co-main event. All three judges scored it 29-28 for Griffin, a winner in five of his past seven bouts.
"[I felt] rusty," Griffin said. "It's great to be back, obviously. I wanted to win, and I was so nervous. My camp didn't go right, but I feel good now."
Griffin set the tone with a strong first round, as he took down Franklin inside the first 30 seconds and kept the one-time middleweight king on his back the entire round. The Xtreme Couture Mixed Martial Arts representative delivered another takedown in Round 2 and wobbled Franklin with a looping left hand.
Ahead on the scorecards, Griffin took a more conservative approach in the third round, content to trade blows with Franklin from the outside. Franklin -- taken down twice in the final 90 seconds -- scored with crisp kicks to the body and occasional punches, but the sporadic strikes were not enough to sway the judges to his side.
"It's hard to come back after a year without people going game speed, let alone [against] a southpaw who's quicker than me," Griffin said. "Fortunately, I was able to get him down in the first round and grind him down a little bit, so I felt like I had built up a little lead."
Jones guillotine taps Bader, earns title shot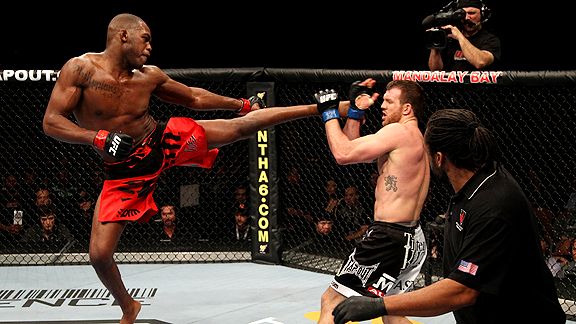 Jed Jacobsohn/Zuffa LLC/Zuffa LLC via Getty ImagesFlying high: Jon Jones embarrassed Ryan Bader -- then was granted a shot at the light heavyweight title.
Jon Jones submitted "The Ultimate Fighter" Season 8 winner Ryan Bader with a second-round guillotine choke, as he passed the most significant test of his career. The tapout came 4 minutes, 20 seconds into Round 2.
The victory, Jones' third in as many appearances, earned the fast-rising superstar a shot at light heavyweight champion Mauricio "Shogun" Rua in the UFC 128 main event in March. Jones will step in for injured teammate Rashad Evans.
Jones had no trouble with Bader, as he scored with a takedown in the first round and set up briefly for a North-South choke. The previously unbeaten Bader looked baffled throughout the one-sided encounter, short-circuited by his foe's otherworldly athleticism and 10.5-inch reach advantage. The decorated collegiate wrestler pulled guard in the second round but did not improve his luck from his back. Jones worked first for the brabo choke and then transitioned to the guillotine for the finish.
"I feel so confident every time I get in here," Jones said, who improved to 5-1 in the UFC. "I feel it's my time, and I'm hungry. I'm going for it."
Ellenberger survives Rocha, takes split nod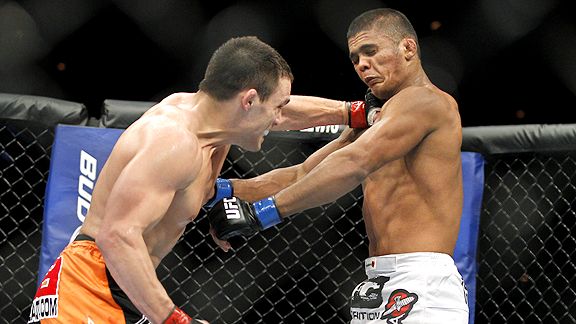 Ric Fogel for ESPN.comJake Ellenberger was forced to work hard to get past Carlos Eduardo Rocha.
Rising contender Jake Ellenberger survived a serious scare against previously unbeaten Carlos Eduardo Rocha, as he carried a split decision in their welterweight showcase. Two of three cage-side judges scored it 29-28 for Ellenberger; a third saw it 30-27 for Rocha.
Ellenberger clipped the Brazilian submission specialist with a quick left hand to start and took it to the ground. There, Rocha went to work, as he scrambled into side control from the bottom, took his opponent's back and moved to mount. Ellenberger eventually escaped, only to be nearly submitted with a kimura later in Round 1.
Over the final 10 minutes, Ellenberger elected to keep the fight standing, and it worked to his benefit. The Omaha, Neb., native scored with strategic takedowns at the end of Rounds 2 and 3, escaping with his third straight victory.
Torres jab breaks own Banuelos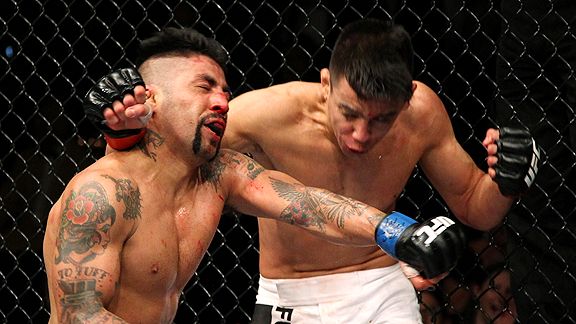 Jed Jacobsohn/Zuffa LLC/Zuffa LLC via Getty ImagesAntonio Banuelos paid the price any time he tried to close the distance on Miguel Torres.
Former World Extreme Cagefighting bantamweight champion Miguel Torres followed his game plan to near perfection in his promotional debut, as he cruised to a unanimous decision over Antonio Banuelos in a featured matchup at 135 pounds. All three judges scored it 30-27 for Torres.
Torres lit up Banuelos with a stiff left jab and popped the inside and outside of his lead leg with kicks throughout the three-round encounter. A longtime training partner of UFC hall of famer Chuck Liddell, Banuelos never got inside the Torres reach advantage, measured at a ridiculous 13 inches.
"I did what my coach wanted me to do," Torres said. "Antonio is dangerous on the inside, so I wanted to fight him on the outside."
The 30-year-old Torres, now training under Firas Zahabi in Montreal, picked up his pace in Round 3, as he kept his textbook jab in Banuelos' bloodied face and scored with well-timed combinations from the outside. He has won 19 of his last 21 bouts.
"He's real tough," Torres said. "He took a lot of punches. I knew I broke his nose. I heard it crunch a couple of times."
Cerrone chokes out Kelly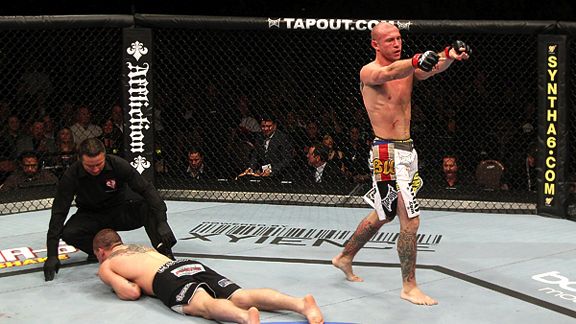 Jed Jacobsohn/Getty ImagesScore one for WEC: Donald Cerrone made his UFC debut a successful one by choking out Paul Kelly.
Donald Cerrone earned a hard fought, come-from-behind victory in his promotional debut, as he submitted Paul Kelly in the second round of their preliminary lightweight scrap.
As Cerrone tried to touch gloves to start the bout, Kelly landed an overhand right before "Cowboy" took the fight to the floor. Though Cerrone briefly secured the mount, the Brit escaped and proceeded to light up the Greg Jackson protégé on the feet. In the waning minutes, however, Cerrone took the fight to the floor once again, this time slicing Kelly over the right eye with an elbow.
Cerrone stormed back in the second stanza, using his length to score with leg kicks before putting Kelly on his back and passing to mount for the second time. There would be no escape for the Brit this time, as the former WEC title challenger took his back and cinched a fight-ending rear-naked choke at 3 minute, 48 seconds of Round 2.
"I'm glad to be here. I'm glad to show the WEC guys deserve to be here," said Cerrone. "That's Greg Jackson jiu-jitsu. My training partners are the best in the world."
Mendes outpoints Omigawa, stays unbeaten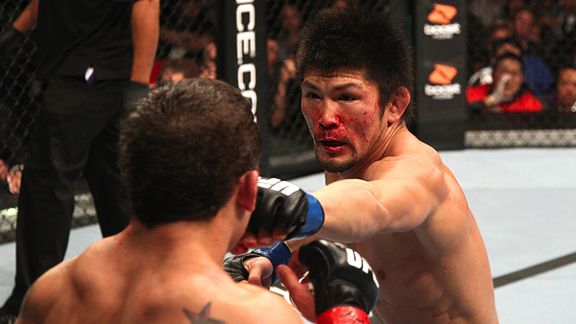 Jed Jacobsohn/Getty ImagesMichihiro Omigawa's face showed the effects of Chad Mendes' effective striking game.
Chad Mendes outpointed world-ranked Michihiro Omigawa in a featherweight tilt, earning a unanimous decision and spoiling the Japanese standout's return to the UFC. All three judges scored it 30-27.
Mendes looked sharp early, targeting Omigawa's lead leg with kicks while coming over the top with a heavy right hand. Though Omigawa's takedown defense was impressive through the first half of the round, the Team Alpha Male ace finally put the judoka on his back with 90 seconds to go in the round. Omigawa dictated the pace from the guard, however, threatening to submit Mendes with a straight arm lock.
Mendes crumpled his foe with a beautiful right hand just seconds into Round 2, but he could not finish the durable Yoshida Dojo representative. After surviving the onslaught, Omigawa recovered to make the remainder of the round competitive, though he suffered a nasty laceration over his left eye late in the round.
The third frame also belonged to Mendes, who escaped a guillotine attempt in the opening seconds of the round to once again gain top position. Though Omigawa was busy from the guard, "Money" continued to rain down ground-and-pound attacks. After Omigawa escaped to his feet, the Japanese fighter pressed the action, only to be taken down and bloodied up as the bout came to a close.
Speedy Johnson derails 'Kid'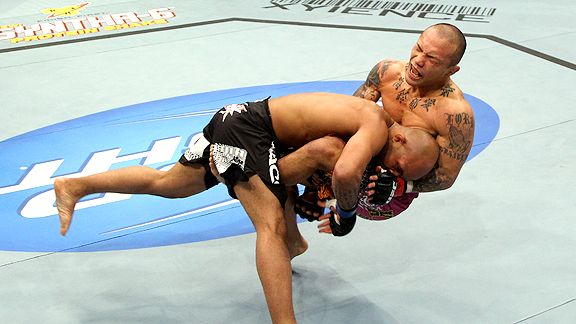 Jed Jacobsohn/Zuffa LLC/Getty ImagesNo kidding around: Demetrious Johnson put a serious beating on Norifumi 'Kid' Yamamoto.
Demetrious Johnson derailed the debut of Norifumi "Kid" Yamamoto, using superior speed to take home a clear-cut unanimous decision win. Scores were 29-28, 30-27 and 30-27, all for Johnson.
Though both men looked sharp standing, it was Johnson who won the wrestling battle in Round 1. Using excellent technique and blinding quickness, "Mighty Mouse" scored three separate takedowns in the opening frame. The second round was strikingly similar, as Johnson continually frustrated "Kid" with his speed and put him on his back several more times. Round 3 also belonged to Johnson, as the lightning-fast American wobbled Yamamoto with a left and again took the fight to the floor as time expired.
"Me and him both have good footwork. That's why I [kept my distance]. If I overextend, I'm going to get knocked out, just like everyone else, by that right hook," said Johnson. "He was a very tough opponent. He hits really hard, and he's a really tough guy."
Taylor kick finishes 'Godzilla'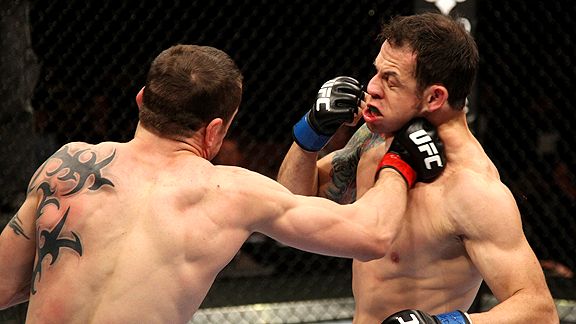 Jed Jacobsohn/Zuffa LLC/Zuffa LLC via Getty Images Gabe Ruediger, right, took one too many on the chin against Paul Taylor.
Paul Taylor earned his second consecutive Octagon victory in his sophomore lightweight effort, besting "The Ultimate Fighter" Season 5 alum Gabe Ruediger by technical knockout 1 minute, 42 seconds into Round 2.
In the first frame, Taylor got the better of the exchanges, using his wrestling in reverse to keep the fight standing. Though Ruediger attempted multiple takedowns, the Brit's defense held strong and Taylor continually landed shots to the head of the former WEC champion. Round 2 brought more of the same, with Taylor finding his range in the stand-up and making his foe pay. With his back against the fence, Taylor put together a fight-ending combination, hurting the American with a one-two before sealing the deal with a head kick.
Kingsbury steamrolls Romero in 21 seconds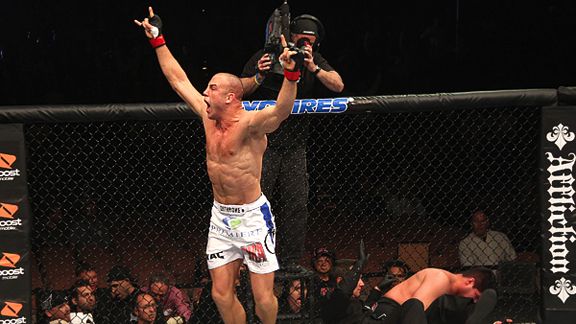 Jed Jacobsohn/Getty ImagesKnee you later: Kyle Kingsbury ruled supreme over Ricardo Romero with a 21-second KO.
A light heavyweight affair between Kyle Kingsbury and Ricardo Romero was almost over before it started, as Kingsbury earned the technical knockout just 21 seconds into the fight.
After pressing the former Ring of Combat champion against the fence, Kingsbury landed knees from the clinch to soften up his foe. As Romero attempted to escape the position, "The Ultimate Fighter" Season 8 veteran dropped him with a left hand and went for the kill, as referee Steve Mazzagatti saved a turtled Romero from further punishment.
Kingsbury, who trains out of the American Kickboxing Academy in San Jose, Calif., has rattled off three consecutive victories.
Mike Whitman and Brian Knapp are contributors to Sherdog.com.