St. Pierre Defeats Shields At UFC 129
St. Pierre Defeats Shields At UFC 129
VIDEO PLAYLIST
In another clinical performance sure to feed the flames of his critics, Georges St. Pierreremained welterweight champion.
St. Pierre kept the fight standing and went 25 minutes with Jake Shields, retaining his title with another unanimous decision in the UFC 129 main event on Saturday before 55,724 fans -- a record crowd for a mixed martial arts event in North America -- at the Rogers Centre in Toronto. Scores were 50-45, 48-47 and 48-47 for the French-Canadian, who extended his career-best winning streak to nine.
Still, St. Pierre did not escape unscathed. Shields landed stiff jabs and right crosses, at times almost at will. One of them left St. Pierre with damage to his left eye.
"I think it was the second round," he said. "In the beginning, I was able to see. I can't see out of my left eye right now. I just see a blur, and it's very bad."
St. Pierre went the distance for the fifth time in his last six fights. The jab was again his weapon of choice, backed up by spinning back kicks to the body and overhand rights. He wobbled the durable Shields more than once, delivering a head kick in the fourth round that had the Cesar Gracie disciple in search of an emergency takedown.
Shields, a Brazilian jiu-jitsu black belt, never got the fight to the ground. His strikes were better than advertised but lacked the necessary potency to put the champion in real danger. The defeat was the first for Shields in more than six years and halted a string of 15 straight wins.
"His striking was much better than I thought," St. Pierre said. "He closed my eyes. Standing up, I was expecting to beat him more with ease and then put him down later in the round, but I couldn't deliver much like this. I'm sorry to the fans. I wanted to make a knockout or submission tonight."
Afterward, the pound-for-pound ace dodged questions surrounding his immediate future, including a potential super fight with middleweight king Anderson Silva.
"We'll see," he said. "I just finished my fight. I haven't considered that yet. Going up in weight class is a lot to consider. Maybe there are other ways of [making that fight]. We'll talk."
Aldo made to work against Hominick
A grueling encounter between world-class featherweights left Mark Hominickwith a tennis ball-sized hematoma on his forehead and champion Jose Aldobarely able to stand.
In the co-main event, Aldo retained his title after 25 grueling minutes of hand-to-hand combat with the Canadian, securing a unanimous decision, and with it, a 12-fight winning streak. All three cageside judges scored it for the Brazilian: 50-43, 48-46 and 49-46. In defeat, Hominick won the champion's respect.
"You've got to take your hat off and give it up for Mark Hominick," Aldo said. "He's a hell of a fighter. I knew he had good standup skills, but I came with my muay Thai [and was] very prepared."
Aldo controlled vast stretches of the fight with his chopping low kicks, takedowns and power punches. He grounded Hominick four times in the first two rounds, opening a horizontal cut below the eye with a short, digging elbow. In Round 3, Aldo wobbled the challenger with a crisp left hook and dropped him with a straight right hand-left hook combination. He showered Hominick with hammerfists, but the courageous Canadian stayed in the fight, recaptured full guard and recovered from the onslaught.
"First off, I'd just like to say to my wife, I hope I didn't put you into labor," Hominick said. "I know you're due any minute. I hope you're OK."
Aldo returned to his trademark low kicks in the fourth round and again put Hominick on the canvas, this time with a powerful right hand up the middle. On the ground, he fired off another elbow, which raised the grotesque swelling on Hominick's head. The cageside physician took a long look at the challenger and allowed him to continue.
"I was never giving up," Hominick said.
The Thamesford, Ontario, native had his moments. He utilized a stout jab and straight right hand, troubling Aldo in spurts. Hominick did all he could to erase his deficit in the fifth round, as he delivered a takedown on the fatigued champion and unleashed a stream of ground-and-pound from the top. The exhausted Aldo weathered the blows and maintained his stranglehold on the featherweight division.
The defeat was Hominick's first inside the UFC.
"I think I just didn't throw a lot of combinations," he said. "I threw a lot of single shots. With Jose, I wanted to be one up on him, and I let him get one up on me. Then I started thinking about the takedown too much. I'll come back stronger."
Machida front kick knocks Couture into retirement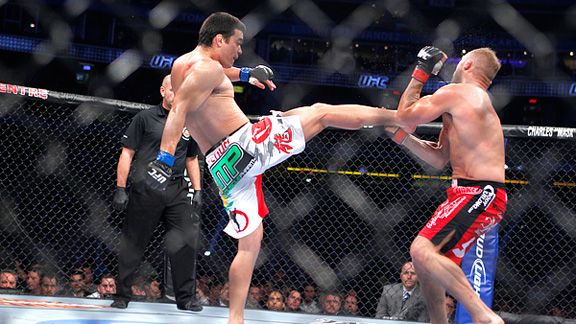 Ric Fogel for ESPN.comLyoto Machida took a page out of Anderson Silva's book by front-kicking Randy Couture.
Former light heavyweight champion Lyoto Machidaborrowed a page from teammate Anderson Silva's playbook, as he knocked out hall of famer Randy Couturewith a spectacular jumping front kick in the second round. Couture, in his final Octagon appearance, bowed out 65 seconds into Round 2.
"I trained this kick a lot. My daddy taught [it to] me. Mr. Steven Seagal taught me also," said Machida, who snapped a two-fight losing streak. "It was a dream for me to fight this guy. He is a hero. This is the man."
Machida kept Couture at bay with straight lefts, quick combinations and knees and kicks to the body throughout a one-sided first round. The 47-year-old Couture, one of the sport's most decorated competitors, tried in vain to secure clinches. Machida shrugged off those attempts without much trouble. In Round 2, Machida waited for the opening. His kick found its mark with stunning precision and pace, knocking the dazed Couture backward. Machida pounced to finish, but referee Yves Lavigne beat him there, saving "The Natural" from further punishment. Afterward, Couture, a five-time UFC champion, announced his retirement.
"You're not going to see me again. This is it," said Couture. "I've been coming to this decision for a while, and it's a fight I've wanted for quite a while. I think I had all my teeth the last time we had this discussion. I felt like I was standing still out there. He's a tremendous athlete."
Matyushenko Finishes Brilz in 20 Seconds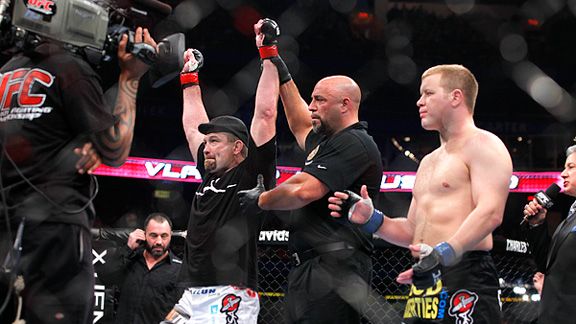 Ric Fogel for ESPN.comVladimir Matyushenko needed one flurry to take out Jason Brilz.
Former International Fight League light heavyweight champion Vladimir Matyushenkohas plenty left in the old tank.
The 40-year-old Belarusian needed just 20 seconds to take out Jason Brilzin their featured matchup at 205 pounds. A brutal right uppercut behind the ear and a follow-up straight left dropped Brilz, and Matyushenko pounced with a series of hammerfists that finished it. It was the second-quickest stoppage of his 14-year career.
"Sometimes, I do what I promise," said Matyushenko, who improved to 7-3 inside the UFC. "I've been working on my striking skills a lot, and I'm just glad I could [perform] for all my fans. I'm capable of doing much more."
Henderson takes decision from Bocek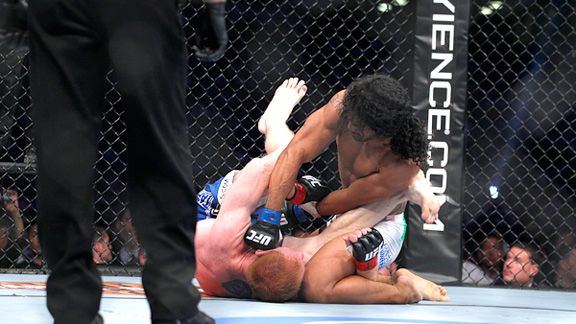 Ric Fogel for ESPN.comBen Henderson, top, spent 15 minutes putting a hurt on Mark Bocek.
Former WEC lightweight champion Benson Henderson made the most of his UFC debut, as he outwrestled, outworked and out-struck Mark Bocek, earning a unanimous decision nod from the judges. Scores were 30-27 across the board for Henderson, who won for the 11th time in 12 fights.
Henderson dominated Bocek in the clinch, stayed out of trouble on the ground and landed the more potent strikes when the two exchanged standing. He escaped an attempted anaconda choke from the Brazilian jiu-jitsu black belt in the second round and unleashed an angry string of knees and elbows that left Bocek bleeding from the top of the head.
Bocek scored with a pair of takedowns in Round 3, but Henderson escaped back to an upright position, where he battered the Canadian's body with stout knees in close quarters.
Brilliant MacDonald dominates Diaz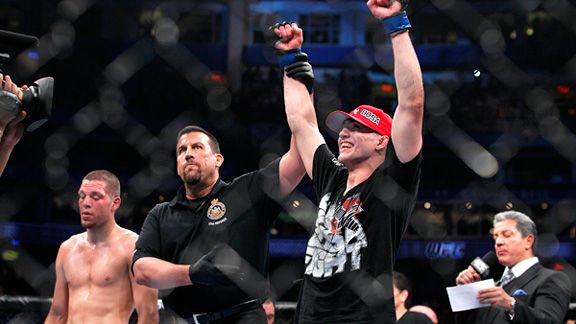 Ric Fogel for ESPN.comRory MacDonald, right, spent three rounds embarrassining Nate Diaz.
Canadian welterweight prospect Rory MacDonaldmade a bold statement in his return to the Octagon.
The 21-year-old former King of the Cage champion outwrestled, out-grappled and out-struck Nate Diazen route to a one-sided unanimous decision at UFC 129 "St. Pierre vs. Shields" on Saturday at the Rogers Centre in Toronto. All three judges sided with MacDonald: 30-26, 30-27 and 30-26.
Diaz kept it competitive for a round, but "The Ultimate Fighter" Season 5 winner had far fewer weapons upon which to call. MacDonald used a varied striking attack and well-timed takedowns to chip away at the Brazilian jiu-jitsu brown belt throughout the first 10 minutes. In Round 3, he wowed the crowd with three belly-to-back suplexes on Diaz, whom he then battered with standing-to-ground punches.
"I'm on top of the world," said MacDonald, who won for the 11th time in 12 professional outings and rebounded from his technical knockout loss to former WEC champion Carlos Conditat UFC 115 in June.
Ellenberger counter flattens Pierson